Original Superfoods Organic Chia Seeds 400 Grams
Chia seed-concentrates in a tiny seed.
Organic and 100% raw.
You will receive 5.95 points. 5.95 points =
€0.18
Free shipping

on orders from €45 (NL, BE)

Next day delivery

(Order before 21:30)*
Pick up at a

PostNL pick-up-point

(NL, BE)

Customer Service

+31 (0)206701705
Customers rate Unlimited Health

9.2/10

Reward Points

. Earn points & save money!
Chia seed - concentrates in a tiny seed.
Chia seed comes from the plant ' Salvia Hispanica ', a Mexican relative of the mint plant. The flowers of this plant produce small seeds that brings poppy seeds to mind. Chia seed was used as food and medicine for thousands of years by the Maya and the Aztecs.The seeds were especially known for their energy boost: If the warriors had to travel long distances they got a handful of Chia seeds with it.
Chia seed has a very high content of omega 3 and omega 6 fatty acids. These essential fatty acids the body cannot make itself and is especially in oily fish. Chia seed is therefore very suitable for vegetarians. In addition, the seeds are packed with vitamin A, B1, B2, B3, B6, B8 and vitamin E, as well as the minerals calcium, potassium, iron, magnesium, copper, phosphorus and zinc.
Chia seed has a neutral flavor and can therefore easily be processed in all kinds of dishes. Your body can absorb the nutrients the best if you let them weld in water for a while , so that there is a type of gel formed. Sprinkle a tablespoon through your smoothie, fruit juice or breakfast, or drizzle it over your salad.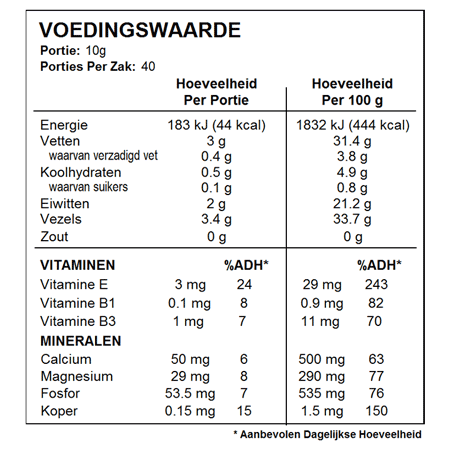 Original Superfoods Organic Chia Seeds 400 Grams
Content
400 Grams
Land of origin
Bolivia
Ingredients
Organic Chia
Allergen information
Application
Add 1 tablespoon to your smoothie, yoghurt or salad. Also nice to make chiapudding of: 1 part chia and 9 parts of water, and optionally add nuts, fruit or other superfood.
Additional Info
-
Warnings
-
Storage instructions
Store in a cool and dry place. Keep out of reach of children.
Portion / Portion per package
10 Grams - 40
Nutritional value
Amount per portion
Amount per 100 grams
Energy
192 kJ (46 kcal)
1920 kJ (459 kcal)
Fat
3,3 gr
32,7 gr
of which saturated fat
0,35 gr
3,5 gr
Carbohydrates
0,23 gr
2,3 gr
of which sugars
0,15 gr
1,5 gr
Protein
2,2 gr
21,9 gr
Fibers
3,4 gr
33,9 gr
Salt
0,001 gr
0,01 gr