September 8, 2023
Edited

September 8, 2023
222 view(s)
We krijgen regelmatig vragen over een aantal jodiumsupplementen in ons assortiment. In dit artikel verkennen we verschillende aspecten van jodium, waaronder natuurlijke bronnen, verschillende vormen en jodiumsupplementen.
Jodium, een essentieel sporenelement voor de menselijke gezondheid, speelt een cruciale rol bij het in stand houden van een goed functionerende schildklier. Voldoende jodiuminname is van vitaal belang, maar het is even belangrijk om de aanbevolen dagelijkse hoeveelheden (ADH) en de toelaatbare bovengrenzen (UL) te begrijpen om een juiste consumptie te waarborgen.
Aanbevolen Dagelijkse Hoeveelheden (ADH) en Toelaatbare Bovengrenzen (UL)
In Europa is de aanbevolen ADH voor jodiuminname 150 microgram (mcg) per dag, zoals vastgesteld door de Europese Autoriteit voor Voedselveiligheid (EFSA). De Verenigde Staten volgen ook een vergelijkbare ADH van 150 mcg per dag. Het is echter cruciaal op te merken dat de toelaatbare UL voor volwassenen hoger ligt, vastgesteld op 1.100 microgram (μg) per dag, om mogelijke nadelige effecten van overmatige inname te voorkomen.
Natuurlijke Bronnen van Jodium
Jodium kan uit verschillende natuurlijke bronnen worden verkregen, waaronder:
Gebiodineerd Zout: Vaak gebruikt bij het bakken van brood, bevat gebiodineerd zout toegevoegd jodium.
Zeevruchten: Vis uit de zee, zoals kabeljauw en tonijn, zijn goede bronnen van jodium.
Eieren: Eieren bevatten ook jodium, wat ze tot een waardevolle voedingsbron maakt.
Zuivelproducten: Melk, kaas en yoghurt dragen bij aan de jodiuminname.
Zeewier: Zeewier, een hoofdbestanddeel in sommige Aziatische keukens, is rijk aan jodium.
Bewerkte Vleeswaren: Sommige bewerkte vleeswaren worden gemaakt met nitrietzout met jodium.
Het is essentieel ervoor te zorgen dat jouw dieet deze jodiumrijke voedingsmiddelen bevat om aan je dagelijkse behoeften te voldoen.
Vormen van Jodium: Nascent Jodium vs. Kaliumjodide
Het begrijpen van de verschillende vormen van jodium is cruciaal bij het kiezen van het juiste supplement. Twee veelvoorkomende vormen zijn Nascent Jodium en Kaliumjodide:
Nascent Jodium:
Nascent jodium is atomaire jodium, met een onvolledig aantal elektronen, wat resulteert in een negatieve elektromagnetische lading. Deze unieke eigenschap maakt snelle opname door het lichaam mogelijk. Nascent jodium wordt soms aangeduid als atomair jodium, monatomisch jodium of atomidine. In tegenstelling tot andere vormen van jodium die in het spijsverteringsstelsel worden omgezet naar jodide, is nascent jodium al in een bruikbare vorm.
Kaliumjodide:
Kaliumjodide is een anorganisch zout dat bestaat uit 76% jodium en 23% kalium. Het wordt vaak gebruikt als een verzadigde oplossing, met 47 mg kaliumjodide per druppel, of in tablet- of capsulevorm. Lugol's oplossing, die 5% moleculair jodium en 10% kaliumjodide bevat, is een andere veelgebruikte vloeibare vorm.
Jodiumsupplementen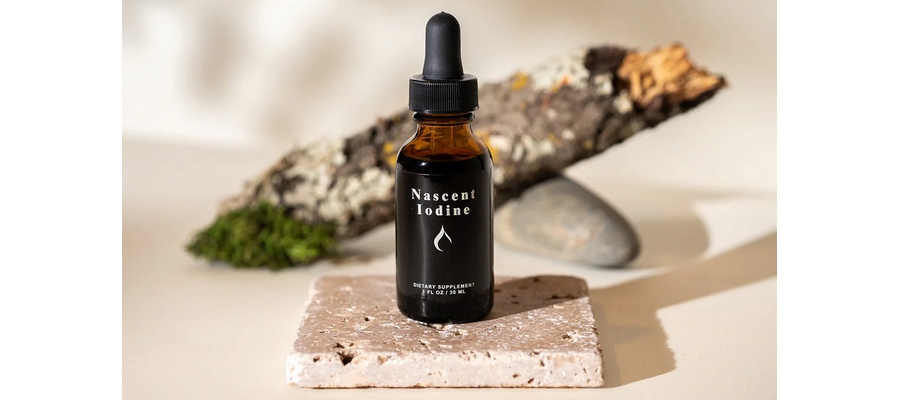 Als je overweegt jodiumsupplementen te nemen, is het belangrijk om het juiste product te kiezen. Hier zijn enkele opties:
Enviromedica (Nascent Jodium) 29,6 ml
Vorm van jodium: Nascent Jodium
Ingrediënten: Nascent Jodium in een basis van Demeter-gecertificeerde biodynamische druivenalcohol
Concentratie: 2%
Inname: 400 mcg per druppel, 600 druppels per fles
Houdbaarheid: 3 jaar
Global Healing Detoxadine (Nascent Jodium) 30 ml
Vorm van jodium: Nascent Jodium
Ingrediënten: Gecertificeerd biologisch nascent jodium, USP Kosher Gecertificeerde Plantaardige Glycerine, Verdrievoudigd Gedestilleerd Water
Inname: Elke druppel levert 200 microgram jodium
Bijzonderheden: Gemaakt van zoutafzettingen die zich meer dan 2000 meter onder het aardoppervlak bevinden
Lugol's Jodiumoplossing 3%/7%/15% 50 ml
Vorm van jodium: Kaliumjodide (KI) en Elementair Jodium (I2)
Ingrediënten: Gedestilleerd Water, Jodium, Kaliumjodide
Concentratie: 5% elementair jodium in een 10% oplossing van kaliumjodide
Inname: Verschillende doses afhankelijk van de concentratie
Bijzonderheden: Lugol's jodium wordt meestal toegediend via druppels op de huid. Voor exacte doseringsvereisten is orale inname de beste methode, maar voor de meeste mensen die het als algemeen supplement willen gebruiken, is transdermale opname de beste methode.
Let op dat het belangrijk is om voor het starten van een suppletie-regime altijd te overleggen met een gezondheidsdeskundige, vooral als je reeds bestaande medische aandoeningen hebt of medicijnen gebruikt. Zij kunnen gepersonaliseerd advies geven op basis van jouw individuele gezondheidsbehoeften.